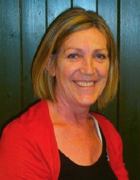 Amanda Mellings
Registered Manager
NVQ 4 Registered Manager Award
NVQ 3 Care
ILM level 5 Diploma in Management
National Skills Academy 'Lead to Succeed' programme
National Skills Academy 'Emerging Leaders' programme
Level 3 BTEC Advanced Certificate in Positive Behaviour Support
Level 3 BETC Advanced Diploma in Positive Behaviour Support
Amanda is the homes Registered Manager and has extensive experience of working with young people and adults with a range of learning difficulties and complex support needs.
Amanda has worked for the SENAD Group for over 10 years. In this time she has progressed her career from the role of Support Worker and in 2007 she became Registered Manager at Fairfield House, a home for adults with learning difficulties and complex support needs. She has also held the role of Head of Care for one of the groups' specialist schools. Amanda also played a key role in the development and opening of the Groups transitional home for adults in Derbyshire, Ecclesbourne Lodge, which opened in February 2012.
Trudi Handy
Deputy Manager
BA Hons University of Worcester
Level 5 Diploma in Health and Social Care
PTLLS
Trudi has worked at Winslow Court since 2007. She became Deputy Manager in February 2017, supporting the Registered Manager in the daily running of the home. This includes monitoring and maintaining staffing levels, monitoring and recording staff training, undertaking residents reviews and liaising with parents, social workers and other professionals. In addition Trudi is responsible for the development and delivery of 'Toolbox Training' sessions, which are weekly two hour training sessions for care staff that are tailored to meet any identified needs. This could include Key Worker training, Safeguarding or Values training. Trudi has also supported one of the SENAD Groups Herefordshire based Adult homes while the Registered Manager was on secondment.
Martin Carter
Campus Principal
BEd (Hons) – London University
NPQH
Martin joined the SENAD Group in February 2013. As Principal his role is to lead and develop the range of SENAD services within Herefordshire. This includes Rowden House School, the adult provision within Winslow Court and Cedar Lodge, plus three adult community homes.
Martin has over 25 years experience in the field of learning disabilities, including three previous Headships.  He is committed to person-centred approaches and cares passionately about positive outcomes.
Ruth Nolan
Head of Learning
BEd (Hons) – Bath Spa University
NVQ 7 Diploma in Leadership and Management
Ruth joined the SENAD group in February 2013. As Head of Learning her role is to create a consistent approach to the development of learning within the SENAD services in Herefordshire, ensuring that each provision is tailored to the individual's needs.
Ruth has over 25 years experience of teaching and senior management in a variety of educational settings. During this time she has developed an empathy and understanding of students' educational, emotional and social needs and is committed to supporting continuing development, knowledge and understanding for all learners and staff.
Julia Hawkes
Health and Wellbeing Manager
NVQ Healthcare
Professional Clinical Skills
Award in Education and Training
Professional Development in Social Care
PRN Medication Administration
Allergy and Anaphylactic Care
Julia has worked for Winslow Court for over 11 years. She is the named person for controlled medication and lead trainer/assessor in medication training.
In her role she oversees all aspects of medication administration and compliance, liaising with health professionals and staff medication and healthcare training. Her role covers the groups Herefordshire based adult homes; Winslow Court, Cedar Lodge, Park House, Orchard End and Fairfield House. Julia is also responsible for Health and Wellbeing of young people at Rowden House School.