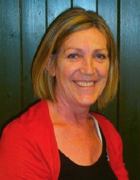 Amanda Mellings
Registered Manager
NVQ 4 Registered Manager Award
NVQ 3 Care
Amanda is the homes Registered Manager and has extensive experience of working with young people and adults with a range of learning difficulties and complex support needs.
Amanda has worked for the SENAD Group for over 10 years. In this time she has progressed her career from the role of Support Worker and in 2007 she became Registered Manager at Fairfield House, a home for adults with learning difficulties and complex support needs. She has also held the role of Head of Care for one of the groups' specialist schools. Amanda also played a key role in the development and opening of the Groups transitional home for adults in Derbyshire, Ecclesbourne Lodge, which opened in February 2012.
Emily Barrett
Residential Coordinator
NVQ 2 Health & Social Care
NVQ 3 Health & Social Care
NVQ 4 In Care Management
NVQ 4 Registered Managers Award
Chartered Institute of Management
Diploma in Neuro Linguistic Programming.
In her role as Residential Co-ordinator Emily provides professional leadership to all the staff employed at Winslow Court and its three satellite homes. She works with the Registered Care Managers to ensure the quality of all aspects of the service. Emily is also responsible for managing the recruitment and selection process for Winslow Court.
Emily joined Winslow Court in 1999 as a Shift Leader. Over the past eight years she progressed to Team Leader, Unit Manager, and now Residential Coordinator. She has worked within Winslow Courts residential units and at Orchard End, one of the satellite homes.
Prior to joining Winslow Court Emily worked in a residential/nursing home for the elderly with dementia, a community home supporting elderly residents with learning disability and  a supported living home for young adults with learning disabilities.
Martin Carter
Campus Principal
BEd (Hons) – London University
NPQH
Martin joined the SENAD Group in February 2013. As Principal his role is to lead and develop the range of SENAD services within Herefordshire. This includes Rowden House School, the adult provision within Winslow Court and Cedar Lodge, plus three adult community homes.
Martin has over 20 years experience in the field of learning disabilities, including three previous Headships.  He is committed to person-centred approaches and cares passionately about positive outcomes.
Ruth Nolan
Head of Learning
BEd (Hons) – Bath Spa University
NVQ 7 Diploma in Leadership and Management
Ruth joined the SENAD group in February 2013. As Head of Learning her role is to create a consistent approach to the development of learning within the SENAD services in Herefordshire, ensuring that each provision is tailored to the individual's needs.
Ruth has over 20 years experience of teaching and senior management in a variety of educational settings. During this time she has developed an empathy and understanding of students' educational, emotional and social needs and is committed to supporting continuing development, knowledge and understanding for all learners and staff.
Jayne Foxley
Independent Speech and Language Therapist
BSc (Hons) Speech Pathology and Therapy
Post Graduate certificate
Paediatric Dysphagia
Jayne has 20 years' experience working as a Speech and Language Therapist, specialising in working with children with learning difficulties in special needs schools. Jayne now enjoys working with children and adults with learning difficulties and a range of communication difficulties and is particularly interested in supporting those with autism and challenging behaviour. She loves working with the individual and their family, carers and staff and feels that inter-disciplinary working is vital to support each person she works with. Jayne really enjoys the variety and challenges that each day brings and loves working with those who appear difficult to reach – getting communication right can be a breakthrough moment!
Maddy Baker
Speech and Language Therapy Assistant
NVQ Level 3 in Health & Social Care
A Level in Communication Studies
In her role as Speech and Language Therapy Assistant, Maddy implements communication strategies and resources to all of the Winslow Homes. Over her time within this role she has formed productive relationships with the residents to enable observation of true potential and to motivate residents to communicate to their potential. Another area of Maddy's role is to work alongside staff working with the residents, demonstrating and delivering evidenced based programmes of intervention. She also supports the Speech and Language Therapist in identifying the training needs of staff across site. Maddy joined Winslow Court in 2012 as a Residential Support Worker before progressing to Shift Leader in 2014, then into her current role a year later.