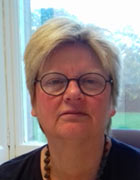 Kate Britt
Executive Head Teacher
• Cert Ed, M.A. (Educ. Management)
Kate joined Pegasus School as Executive Head Teacher in July 2017. She has 30 years' experience in the education sector and worked for the Group as Head Teacher of Bladon House School from 2003 until her retirement from this post in 2015. Since then, Kate has been SENAD's senior School Improvement Partner. Kate is also a SEN Governor of a local Junior School.
As well as significant management experience, Kate's expertise covers the wide spectrum of learning difficulties, autism and social and emotional difficulties in children and young people.
Emma Hunt
Deputy Head Teacher
Emma joined Pegasus School as Deputy Head Teacher in October 2017. She has 14 years' experience in the education sector 13 years of which has been within special educational needs provision. Her previous role was Deputy Head Teacher of a local authority primary school for pupils with complex autism, during which she played a key role in taking the school Ofsted grade from requires improvement to outstanding.
As well as this successful leadership and management experience, Emma's expertise covers the wide spectrum of learning difficulties especially in regards to severe learning difficulties and autism.
Dave Hancox
Head of Care
BA (Hons) Alternative Therapies and Drama Therapy
• NVQ Level 4 in care and management
Dave was appointed Head of Care at Pegasus School in January 2005.
He has worked at Pegasus School for the last ten years in a variety of roles.  From his initial role as care staff, he has worked through all aspects of the care setting including managing Clock and Elizabeth House unit to senior care co-ordinator.
Dave also has previous experience of working for Social Services in the West Midlands area organising play schemes.
Phil Grocott
Safeguarding Manager and Deputy Head of Care
Jane Edwards
Transitions Officer
Fiona Hamilton
Health Promotions Manager
Peta Denney
Head of Therapies
B.Sc  (Hons)Human Communication
Peta joined Pegasus School as a Speech Therapist in 1998. Prior to this she worked for Bladon House School, who are also part of the SENAD Group. She now heads the Pegasus Therapy team which includes occupational therapy, psychology, two nurses, an additional speech and language therapist, and an assistant.
Di Rowland
Welfare Officer