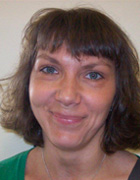 Sabina Sakowicz- Lee
Registered Manager
Master Degree in Sociology
NVQ level 3 in Health and Social Care
Internal Reviewing Officer for Investor in People Management
NAPPI Instructor
Sabina joined the SENAD Group in 2014 as a Shift Leader. The company supported her professional development by giving her opportunity to achieve the NAPPI Instructor qualification (Non-abusive psychological and physical intervention). Sabina has over 8 years of experience working with people with learning difficulties and behaviour that challenges. She is focused on residents' welfare and wellbeing. She makes sure residents are safe, are treated with dignity and respect and receive high quality support.
Martin Carter
Head of Rowden House School and Herefordshire Adult Homes
BEd (Hons) – London University
NPQH
Martin joined the SENAD Group in February 2013. His role is to lead and develop the range of SENAD services within Herefordshire. This includes Rowden House School, the adult provision within Winslow Court and Cedar Lodge, plus three adult community homes.
Martin has over 25 years experience in the field of learning disabilities, including three previous Headships.  He is committed to person-centred approaches and cares passionately about positive outcomes.
Ruth Nolan
Head of Learning
BEd (Hons) – Bath Spa University
NVQ 7 Diploma in Leadership and Management
Ruth joined the SENAD group in February 2013. As Head of Learning her role is to create a consistent approach to the development of learning within the SENAD services in Herefordshire, ensuring that each provision is tailored to the individual's needs.
Ruth has over 25 years experience of teaching and senior management in a variety of educational settings. During this time she has developed an empathy and understanding of students' educational, emotional and social needs and is committed to supporting continuing development, knowledge and understanding for all learners and staff.
Julia Hawkes
Health and Wellbeing Manager
NVQ Healthcare
Professional Clinical Skills
Award in Education and Training
Professional Development in Social Care
PRN Medication Administration
Allergy and Anaphylactic Care
Julia has worked for Winslow Court for over 11 years. She is the named person for controlled medication and lead trainer/assessor in medication training.
In her role she oversees all aspects of medication administration and compliance, liaising with health professionals and staff medication and healthcare training. Her role covers the groups Herefordshire based adult homes; Winslow Court, Cedar Lodge, Park House, Orchard End and Fairfield House. Julia is also responsible for Health and Wellbeing of young people at Rowden House School.