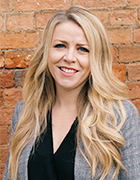 Nina Sharpe
Adult Care Director
Level 7 Leadership and Management
Level 5 Diploma Health and Social Care
B.Sc. Hons. Social and Cultural Studies
Nina has been part of the community support sector for 14 years and was welcomed into the SENAD Group in 2014. She leads on service quality and development of the Group's community support and residential transition services.
Following graduation Nina started her career as a support worker and has progressed her way through the management roles to her current role, giving her a thorough and workable understanding of the needs of service users, their families and staff.
Nina is an innovative and creative leader with considerable experience in driving organisational improvement and change to facilitate long term plans and strategies. Qualified to Level 7 Leadership and Management, Nina is experienced in collaboration and partnership working, change management and people development.
Natalie Chester
Registered Manager
BA Hons degree in Sociology and Criminology
NVQ Level 3 in Health & Social Care
Working towards NVQ Level 5 in Health & Social Care
After Natalie graduated from University in 2015 she joined OneNineFive as a Support Worker. She also became a Keyworker, supporting a young person with complex needs to gain the skills which has allowed him to live a more fulfilling life.
Natalie has progressed her career at OneNineFive by becoming Deputy Shift Manager and then full time Shift Manager. She was appointed Registered Manager in April 2020.
Her aim is to continue to work closely with the young adults, their families and professionals to provide them with the best possible future, putting the young adult's values and beliefs at the core of what they do.