As part of our programme to explore and share different cultural experiences from around the world, early in October of this year, our residential young people from Devonshire and Cavendish House enjoyed various different flavours of Dim Sum and lemon chicken noodles that they all attempted to eat with chopsticks as well as home fried multi coloured prawn crackers.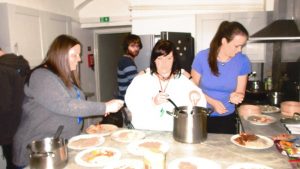 We found out our fortunes through fortune cookies and sampled several different Chinese Teas in a traditional Chinese Tea ceremony…with the highlight being the 'tea pet' (in this case a dragon who you sacrifice the first part of the tea to for good luck) and the 'Pee boys' to ensure the water is the correct temperature for brewing the tea leaves!
Everyone also took part in traditional children's rice bag game (with much hilarity) as well as competing in a true or false quiz where the victors achieved 11/15 correct answers. Who knew for example, that it was true that Geese are used by some Police forces in China instead of police dogs due to their aggressive nature and that eggs soaked in urine are considered a delicacy!
The young people and our team members finished the night by watching The Great British Bake Off as a celebration, continuing the theme of food and competition!
All the young people had a great evening socialising and some have asked for the same evening to be repeated in the future. Where on Earth will we head next????