During our last academic year Rowden House School held a very successful work experience programme. Three of our post sixteen pupils attended work experience once a week for an hour in two local Bromyard businesses and another in Hope under Dinmore.
Dan went to Holden Vintage and Classic, a mail order motoring company at Linton Trading Estate, where he helped in the warehouse. Dan worked closely with the Holden team, who were brilliant with him, showing him how to pick and pack goods to send all over the world. He particularly enjoyed using the paper shredding machine, quickly picking up which buttons and switches to press to create packing material.
Whitegates elderly care home at the top of the Bromyard by-pass, provided Joanna with an opportunity of being part of their care team; she helped clear tables after lunch and made tea and coffee for the residents, who commented that she was always bright and cheerful. Joanna built up some really nice friendships with both staff and residents who looked forward to her Tuesday afternoon visits.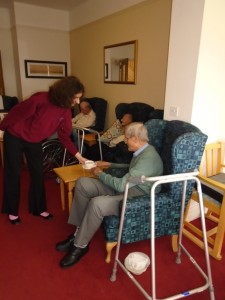 Prometheus Medical at Hope-under-Dinmore saw John absolutely blossom with confidence as he learned lots of new skills. John was made to feel like one of the team and was given his own company uniform and protective clothing. The staff in the stores really went that extra mile in preparing tasks each week to challenge him. John thoroughly enjoyed every moment he spent there, especially when his weekly task involved one of the many company vehicles.
This year will see the addition of two new work experience placements. One at Warren Farm, working in the polytunnels, under the supervision of James and Tor Hawkins and one at Instone Court, collecting and sorting eggs from Simon and Lenny Parker's beautiful hens.
I would personally like to thank each and every one of you involved in allowing our young people the opportunity of being part of a real working environment. Placements such as these are of enormous value in helping them to develop interpersonal skills and gain more confidence.
If there are any other businesses out there who feel they may be able offer a work experience placement to one of our students then please contact me at Rowden House School.
Susie Bateman
Work Experience Co-ordinator
Email: susanna.bateman@senadgroup.com
Tel: 01885 488096
Website: senadgroup.com/rowdenhouse
Please note – Young people's names have been changed to protect identity.