On 21st March students explored Scandinavia through a variety of workshops as part of our second Global Day of the year. They were virtually transported to see the magnificent landscapes of Scandinavia for themselves through a virtual reality headset. They also had the opportunity to compete against each other in a virtual snow ball fight set in Lapland.
Students made a traditional Scandinavian buffet meal called a smorgasbord. They sampled some delicious foods such as cloudberry jam made from a fruit native to Scandinavia and some less delicious fish dumplings.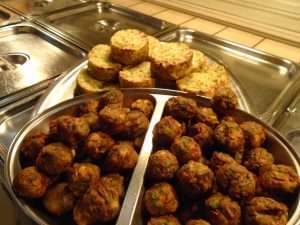 Other sessions held on the day saw students learn about the works of Hans Christian Anderson and create and share their own fairy tales while sipping alcohol-free Glogg. They designed, made and sailed a Viking raft and met a Viking who told stories about where they came from, the gods they believed in and showed them how Vikings prepared for battle. The kitchen supported the day by making a selection of Danish dishes for lunch and by decorating the canteen in the flag of Denmark.
The day was a huge success with the majority of students accessing all sessions. Students from KS1 to KS4 interacted with one another, competed against each other and shared in their learning of another culture. The feedback suggests they are very much looking forward to the next Global Day.