On Thursday 18th July 2019, the pupils from Rowden House School enjoyed their leaving Prom. Pupils wowed the staff with their choice of attire and dance moves for the evening! For those who leave us this year, we wish you well, we are very proud of you and what you have achieved whilst being with us at Rowden House School.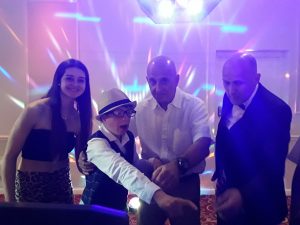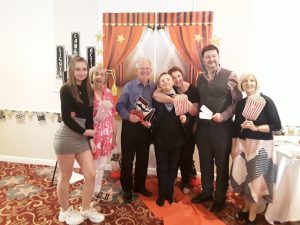 This year's prom was held at The Bank House, Bransford, Worcester. The students had been busy prior to prom night, making many fantastic decorations for their night.  It was a night of lights, camera, action!! (Hollywood Theme) in the Elgar suite. Well done to everyone who was involved in creating such wonderful pieces of artwork.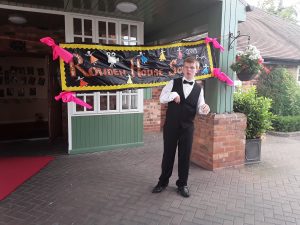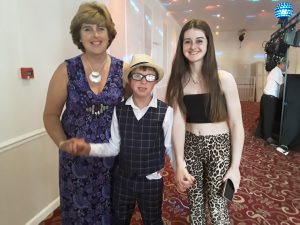 The students all arrived looking absolutely fabulous, supported by the staff, who also looked every part of prom night too! They slowly made their way in to the Elgar suite, stopping to have the obligatory prom photo taken under the banner. Upon arrival the students had the option to get down and boogie on the dance floor with DJ Richie Palmer, enjoy the bubble machine or have photos taken with the Hollywood backdrop/picture frame booth.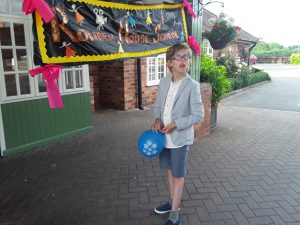 The students had a fabulous evening, dancing to all their favourite tunes and asking for many requests from Rich, who was happy to oblige. Song requests played right up until the end of the evening. A delicious buffet was served, along with drinks. There was also a cake displaying portraits of all the students, This was carefully cut in to sections for all to enjoy.
Thank you
The students (and staff) all had a great prom night. Thanks go to all the staff for supporting the students and the parents, family members, friends who came along to enjoy the night with their son/daughter. Thank you to the staff who gave up their time to decorate the suite, the staff who came along in the evening in their own time and all staff at The Bank House who looked after us all evening. thank you to DJ Richie Palmer for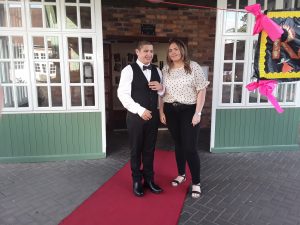 the tunes and most importantly the students who had a fabulous evening.