Thirsty residents at Orchard End were able to enjoy their favourite tipple without flouting coronavirus restrictions, by holding an in-house "Lockdown Lock-in" pub theme at home during September.
For one night only, residents and staff converted the conservatory area into "The Orchard Inn". There was an authentic bar, dining area and lounge bar. Music was played through speakers to recreate the atmosphere of a traditional "local".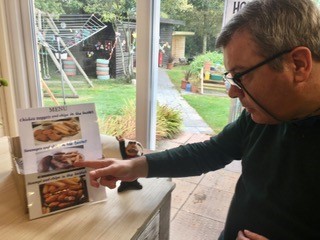 Residents were able to choose from a choice of non-alcoholic wine, beers and cider. There were savoury bar snacks and classic pub style basket meals. The menu included chicken nuggets, scampi, sausage and chips.
With plenty to eat and drink and a relaxed, convivial atmosphere, the event was a huge success and there were no sore heads In the morning.
We'll drink to that!!