On 26th June 2018, nine students from Bladon House School descended on London for a two night residential trip taking in restaurants, a show and lots of busy tourist hot spots. The trip was jam packed with new experiences which for students with Autism is very challenging. The students visited Shrek's adventure, Sea-Life Centre, street theatre on Southbank, three course dinner at Pizza Express and everyone's favourite– a trip to Tesco Express! As well as two trains, two tubes and two bus rides, all on day one!
We shared bedrooms, bathrooms, lounges and living areas across the second floor of a Victorian pub in Lambeth. After a delicious, fine dining experience delivered to our door courtesy of a McDonalds breakfast we were on our way again visiting the Imperial War Museum, Trafalgar Square, Tesco Express again, toilet stop in the National Portrait Gallery, Leicester Square, M and M world, Lunch in Pret a Manger and Covent Garden.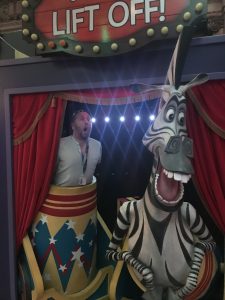 Finally at 2.30pm on Wednesday it was time for The Lion King at the Lyceum Theatre! And what a performance it was, fully enjoyed by everybody. And we weren't done there, a quick walk through Chinatown and we arrive at the Rainforest Café for dinner, eating amongst gorillas, leopards, snakes and tropical fish with a half hourly thunderstorm right above our heads. After one more trip to Tesco Express (again!) we travelled back on the underground to our flat. Exhausted, hot, tired and full of food we collapsed early into our beds and slept the night away before returning to school on Thursday.