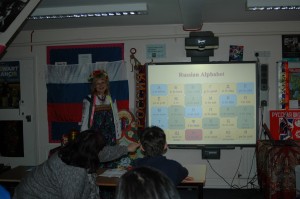 On Wednesday 11th March Students at Alderwasley Hall School held a Russian day. Professionals from a number of local organisations attended and provided their input to our day. We had two teachers from the Rubric Russian school in Derby come and deliver language sessions and a teacher from Green tops circus school deliver sessions instructing our students in circus skills.
Both these sessions and the sessions delivered by Alderwasley staff provided a good grounding in some of the key aspects of the language and culture of Russia. We were also fortunate to have representatives (staff and students) from Derby Moor School, our link school in Derby; who came and delivered their own presentation towards the end of the day.
Modern Foreign Language days are an opportunity to experience and learn about other cultures. Language is only one aspect of a culture, and the sessions run during the days look at popular National dishes and cuisine, Music, National sports, contributions to global developments in Science and Technology, as well as the Art, History and Geography that make these cultures unique  and interesting. We live in a country that has been affected and influenced throughout our history by other nations; by learning more about them we learn more about our own nation and where the UK fits into the world.
Modern Foreign Language days continue to be well received and commented upon positively by students and staff when surveyed and we constantly strive to improve and refine the experiences and the learning that our students gain by attending days such as this.