Day 1:
Two Alderwasley Sixth Form Centre Students and their teachers, Gaynor Wall and Lisa Robinson started their trip to Rotterdam on Monday 6th March.
We boarded the minibus which took us to Hull via Meadowhall shopping centre in Sheffield for lunch. We arrived in Hull at 4:00pm and boarded the ship (The Pride of Rotterdam) at 5:00pm and put our luggage in our cabins which were reasonable size but quite small compared to the hotel we stayed in later. Once we dropped our stuff in our cabins we then went to look round the ship before heading to dinner, the ship departed at 8:30pm and afterwards we enjoyed the on-board entertainment then went to bed, for me sleeping was easier than it was last time because the ship did not roll about on the waves as much as it did the first time we went in 2015.
The Pride of Hull herself was quite nice, its length was 706 feet and 10 inches which 176 feet shorter than the RMS Titanic and 123 feet and 9 inches shorter than the infamous German battleship Bismarck, it's a roll-on roll-off car/lorry passenger ferry owned by P&O Ferries along with her sister ship the Pride of Rotterdam and does the run from Hull to Rotterdam.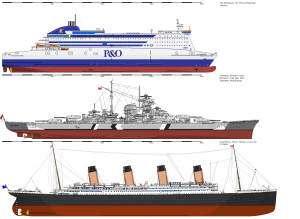 Day 2:
When we arrived in Rotterdam it was spectacular and a place that since we went the first time round I have always described as "An Industrial Empire" as it is full of wonderful looking buildings because most of its historical architecture was destroyed by the Luftwaffe (The German Air force) in what has become known as 'The Rotterdam Blitz' during the Second World War (World War II).
Later on we checked into the Hotel Emma which in my opinion one of the best hotels I've ever been in and the rooms are really nice and has a wonderful view of the street and the beds felt like sleeping in heaven. After dropping our stuff we had a look round the city and went to have a look inside the massive indoor food market. We also went to the Maritime museum, inside the museum is a replica of platform of an oil rig and small ships outside.
Then we went and had chips for lunch. Then we went to a pancake shop, later in the day we went to an Italian restaurant for our evening meal, we had pizza and a chocolate pudding for dessert, afterwards we went back to the hotel and settled down for the night and I slept really well.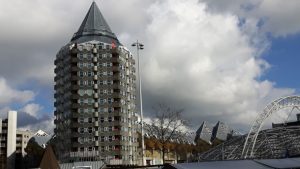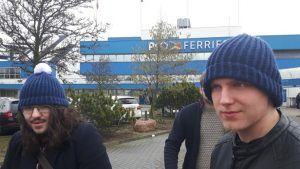 Day 3
The final day we were in Rotterdam we went back into the massive food market where people actually live in apartments above, we then went to an escape room where we had to escape from a replica section of Alcatraz which was fun, later we then we went for lunch at a pub where I had a club sandwich which had chicken and bacon in it with chips before returning to the hotel to collect our luggage and headed back to the europort to get the ship (this time The Pride of Rotterdam) back to England which set sail at 8:00pm whilst we were having dinner.
Later we had a look round the ship and then went back to our cabins where we played DC Superheroes Top Trumps and Harry Potter Trivial Pursuit. On the way back the sea was quite choppy so standing up was a bit weird but I managed to cope and I even slept better coming back than I did before so bonus.
Day 4:
When we got back to England we were all pretty tired and the trip back was really good. When we arrived back at Alderwasley it was about 12:30pm which was really nice which meant I could get to tell everyone about the trip. Later on we got our respective lifts home where I got the chance to tell my family all about the trip.
Over all I personally thought the trip to Rotterdam was good especially seeing the city in person and indulging ourselves in the culture but the best thing for me was basically everything. I enjoyed it all and while there were some good bits and bad bits (The ship rolling on the waves) but overall it was brilliant.