Jo Walker
Registered Manager (Designate)
NVQ 3 Health and Social Care
Currently studying NVQ 5
Adults and Young People NVQ 2 Mental Health
Joanne has over 19 years' experience of working in care services. She has worked in nursery and after-school settings (Nursery Nurse/SEN Co-Ordinator) with babies, children and young people (age range 6 months to 14 yrs.) and a private children's home as Senior Residential Support Worker and Education Co-Ordinator.
Joanne joined the SENAD Group in 2014, as Residential Support Worker for OneNineFive, the groups Adult Transitional home. She became a Shift Leader in August 2014 and Senior Shift Leader in July 2016. Joanne is an Autism Awareness trainer and Medication Awareness Trainer.
She also covered the role of Manager at Ecclesbourne Lodge for a 16 week period between September 2016 and January 2017.
Joanne was appointed Residential Manager at Pegasus School in January 2017 before securing the position of Registered Manager at Ecclesbourne Lodge (Transitional Adult home) at the end of 2017.
Joanne has a passion for supporting young people to move forward in developing their essential life skills and has implemented an Independent Life Skills Programme which gives scope for progression as young people learn through practical every day tasks.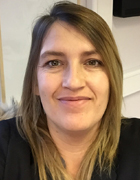 Laura Barron
Area Manager (East Midlands Transitional Homes)
NVQ Registered Manager Award Level 4 (RMA)

ILM Level 4 Leadership and Management

National Skills Academy Lead to succeed programme

D32 D33 trainer award

Working towards NVQ 5 Care Leadership and Management
Laura became Area Manager of the groups East Midlands based adult homes in 2016. She joined the SENAD Group in November 2014 as Registered Manager at OneNineFive. She has also took on the role of Senior Registered Manager at Ecclesbourne Lodge, helping the development of both homes. She has worked as a Registered Manager in the care sector since 2007, working in the private sector with service users in their own homes. During her career she spent some time working for the NHS, as part of the IS (intense support services), resettling individuals with learning difficulties and      challenging behaviour from long stay hospital wards to independent living in the community. As well as management qualifications Laura has completed her NVQ level 3 in Care and Level 3 independent living. Laura has also worked as a deputy manager and a support worker across most care settings, so understands all areas of the support provided at OneNineFive and Ecclesbourne Lodge.